Welcome to SDJ International School Palsana Foundation for a brighter,
smarter & stronger future !
SDJ International School is modeled to produce future citizens of the country and the world, based on holistic education. It is growing in leaps and bounds and is carving a niche for itself. The school is housed in a four storeyed latest modern designed building, consisting of more than hundred classrooms, having an attractive infrastructure which can cater to a large number of students through its innovative and constructive programmes, including a wide range of co-curricular activities. The school imparts quality education laying special emphasis on the Indian Culture, Moral and Value Education. The school has proficient and well qualified staff, five well equipped, spacious and well ventilated labs. a wellstocked Library, a well-equipped Computer Lab, an Activity/Sports room, Music room and Dance room. It provides transport facility as well as web portal and SMS facility. A huge play field for Football, Volley ball, Throw ball and Kho-Kho. It has a decent sized Swimming pool for beginners and learners which provides an excellent opportunity for the all round growth of a child's gross motors.
Our Other Educational Institutes
S. D. Jain Modern School
Excellence In Education
S. D. Jain Modern School, the first of its kind in Surat city, is an English Medium co-educational School and is managed by Paras Education Trust, Surat, vide CBSE Affiliation No. 430048. The School caters to the mental, physical, emotional and moral growth of a child through varied programmes, designed academically and keeping in mind the curricular and co-curricular activities towards the overall development of each student.
SDJ International College
SDJ International College in affiliation with Veer Narmad South Gujarat University imparts professional education at graduate level, in the fields of Management (BBA), Bachelor Computer Applications (BCA) and Commerce (B.Com). The institute has been working for the attainment of its mission and motto 'To develop highly skilled and professional human resource for the industry and business'. From a very modest start, SDJ International College has now acquired a commendable position as one of the esteemed colleges of the city.
SDJ International School, Vesu
A Place to Grow After setting high standards in CBSE School Education, the Paras Group has ventured into providing high quality and standard education for students wishing to study under the Gujarat Board (GSEB).
Our Educational Institutes are shortly opening in Pune & Mumbai!
Foundation for a brighter, smarter & stronger future !
Why is SDJ International School The best solution for Education
Salient Features:
Smart Class
Smart Digital Class is the complete teaching technology which makes learning easy and intellectual. This program is the combination of hardware and software. Digital class makes the lecture more interesting as well as innovative. It makes learning Fast, Full of Fun, Hopeful, Visualized and inspirational. The classrooms turn into lively learning platforms for students and the teachers can choose from a mix of teaching tools such as the traditional chalk and talk method coupled with graphics, sound, animation and videos. "Smart Classes" provide better education through presentations and videos, as a student can learn better through visualization. The Class becomes student-centric with both, the Smart Board and best of pedagogy.
SMS / ERP
The school has the Standard Message System for quick and timely information to the Parents, to make communication better and faster.

Wifi Enabled Campus

Computer Lab

Math Lab

Science Labs

S.S Lab

Art and Craft Room

Indoor Swimming Pool

Outdoor Sports

Indoor Sports Room

Dance Room

Music Room

Healthcare

Canteen Facility

Campus Under CCTV Surveillance

Outdoor Excursions and Field Trips

Transport Facility With GPS
A Proud Moment for SDJIS to have been Recognize and Declared as a Fit Indian School.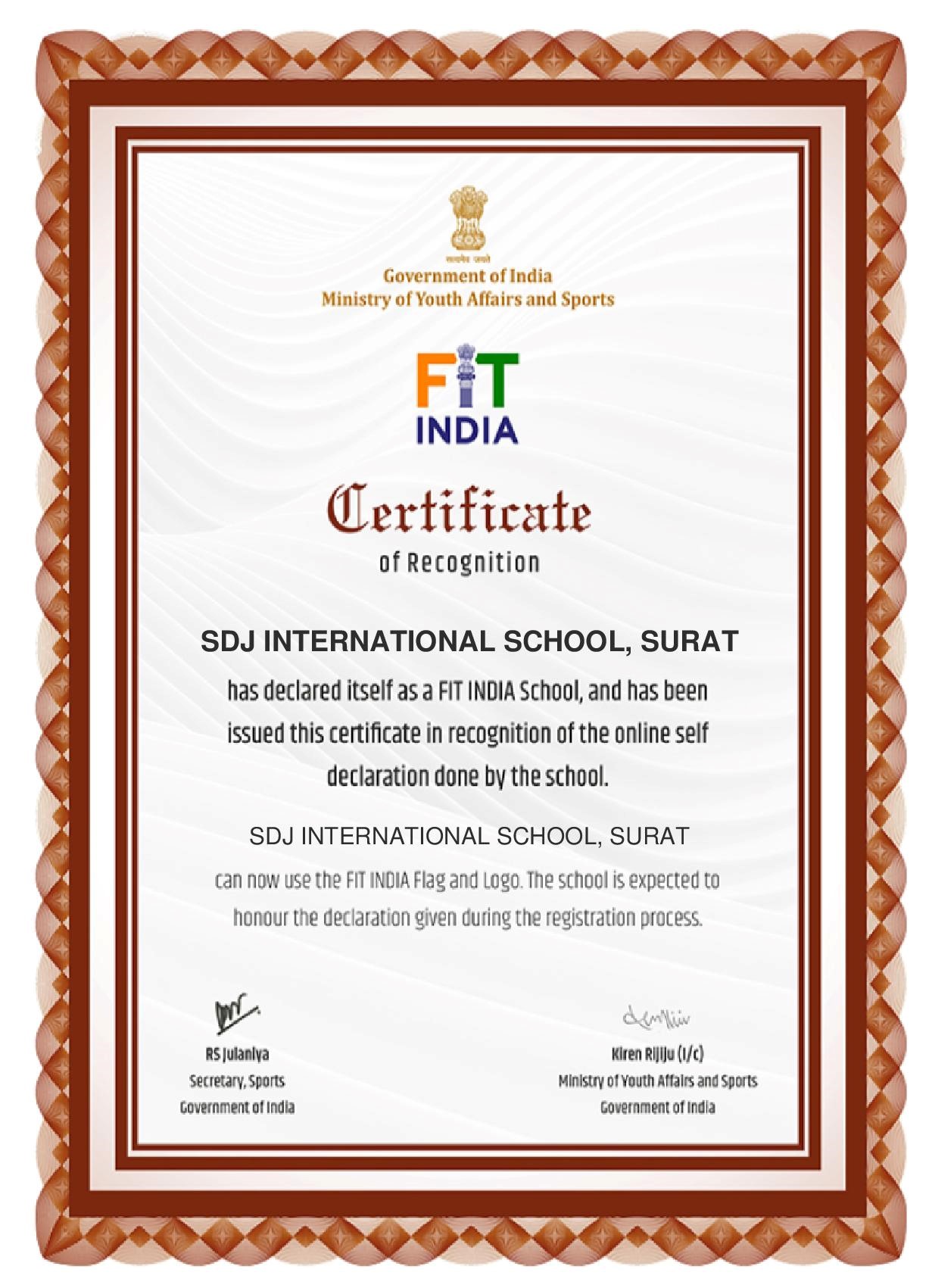 We are Happy to share the Achievement of Angle Shah. She qualified for the Second level of SOF-IMO
SCIENCE OLYMPIAD FOUNDATION-INTERNATIONAL
MATHEMATICS OLYMPIAD